Why invest with me Freddy Wills? There are obviously thousands of people giving out picks and betting advice. You may also think you can bet on the games, and do better than most of the "so called" experts out there, and I'm sure you probably can, but wouldn't you rather save all that time and invest with someone who has the passion and concentration solely on football, honesty, integrity, and a long history of success?
I solely concentrate on football. You may not have the discipline to bet and follow a strict set of rules or only bet football when baseball, college and pro basketball, and even hockey can be going on during a football weekend. Actually there are a lot of handicappers out there who will have picks and claim they put in hours of research for all those sports. That's just not me. I found what I was good at, which is handicapping football, and that has led me to history of success.
My football picks have outperformed the stock market. The past 12 years I have given out more than 3,500 total football picks, and have profited in 9 of the 12 resulting in a total ROI of 352% with an average yearly ROI of 29.38%. Last year my clients and myself enjoyed a 55.06% return on investment. A $10,000 bankroll client made $5,506 in profit. I have great pride in being able to profit over a long period of time, but it's nothing without honesty & integrity. Read more: Sports Betting Money Management vs. Stock Market
Relative Links - Yearly POD ROI | NCAAF POD's | NFL POD's | All Football Picks ROI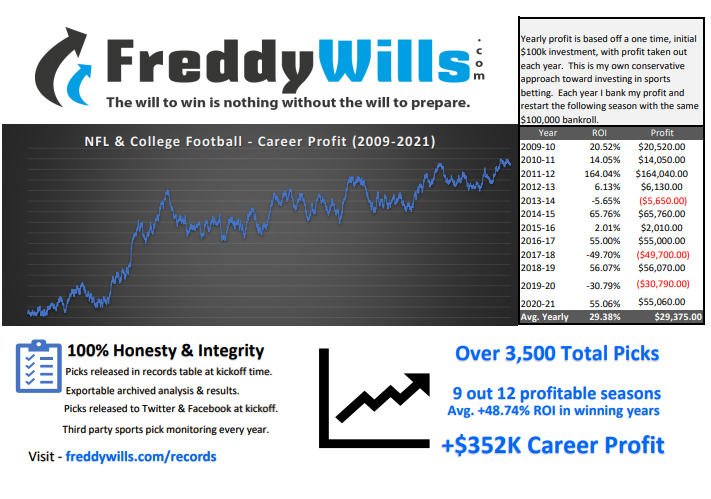 My #1 priority has always been transparency with clients and potential future clients. I don't think you can find another handicapper out there that goes out of their way to provide the information I do at the time I do. 1 minute after kickoff my recommendations are released to the public via my website, twitter, and facebook. Unfortunately, there is still a stigma of handicappers who lie about records, and give out different sides and this is one way I have found to prove that I have never done that. All of my picks are archived on my website freddywills.com/records, and time stamped. You may also export my entire pick history with a click of a button. Lastly every year I make sure I am also documented by one or more third party sports monitoring services.
---