This package has been discounted the rest of the way, and is the perfect time to buy. In 11 seasons from November 19th on I have profited 283.14%, which is an average yearly ROI of 25.74%! We are up 17.38% on this football season and plan to close strong to get over 50%! If you purcahse the package the rest of the way we are guaranteeing 2 months FREE next season if we do not profit.
Don't miss out on my entire 2020 College & NFL season. This is the best value pacakge! My clients and I have profited in 8 of the 11 seasons I have been releasing picks with a yearly average ROI of 27.04% and a career profit of 297.45% in college and pro football combined!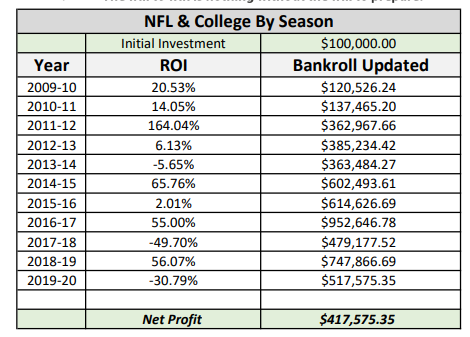 You can follow my records and passion for honesty, integrity, and transparency at freddywills.com/records.
Key Links:
Here you will find combined yearly return on investment for college and pro football overall
Here you will find combined yearly ROI for college and pro football PLAY OF THE DAYs.
Check out my profitable trends,
Which include:
Guarantee: With this package we guarantee a profit or the entire 2021 season is FREE. We do post individual picks, and weekend packages with other promotional guarantees, so be on the lookout.
$149 Validity 0 Days
---
Subscribe on iTunes
Follow @freddywills