Famous Idaho Potato Bowl -Central Michigan vs. Wyoming (Wyoming -3, 46)
Location: Idaho, weather will be cold and have over 10 mph winds it looks like. Nothing these two teams aren't used to. Elevation would be the big factor here as CMU not used to playing in elevation, but they have been here for a few days and I don't anticipate in a game that is not high pace for it to play a big factor.
Conferences MAC vs. Mountain West. The Mountain West has already had a strong showing in the bowl games with a victory over the PAC 12 as a 7.5 point dog. Since 2010 these conferences have been basically even with the MAC going 12-14 being outscored by only 1.9 points per game.
Coaching Wyoming Craig Bohl is doing some good things at Wyoming with the second year in a row with a bowl appearance losing last year. Bohl, a ton of success with 3 National Titles when he was at North Dakota State for FCS. Last year they lost a close one by 3 points against BYU in the Poinsettia Bowl. The story of Wyoming's team this year has been the defense that has carried them and Scottie Hazelton is the reason why. In his first year after coming over from the Jaguars this defense has been crazy good.
X's & O's
Let's start with Wyoming whose offense was beyond awful this year. They could not pass the ball ranking 101st, and they could not run the ball ranking 120th. Their offensive line adjusted line rank was 124th. They have a potential 1st round QB in Josh Allen who is questionable for this game. If he plays he can only hurt his stock. I'm not sure he plays, but if he does it won't matter just like it hasn't mattered all year. The offense will be going up against a pretty good defense in Central Michigan who ranked 22nd in yards per play allowed. Their strength was against the pass ranking 23rd in passing yards allowed.
Central Michigan's offense was pretty one dimensional as they ranked 48th in passing yards and 92nd in rushing yards, but clearly better than what Wyoming's offense did. They will have a tough task against Wyoming's defense whose strength is against the pass. Wyoming ranks 12th in yards per play allowed, but it's their pass defense ranking 5th in yards allowed. A deeper look will either reveal that they were that good or that they really didn't play many opponents that could pass the ball.
I would lean towards the dog which is Central Michigan right now. I would not be surprised to see a late line move. I'll be digging into this game more tonight to release an official play, but I saw and lost against the Chippewas a couple of times down the stretch. This is a team that beat Oklahoma State on the road last year, but did not show up in their bowl game where they were outmatched by a very good Tulsa team 10-55.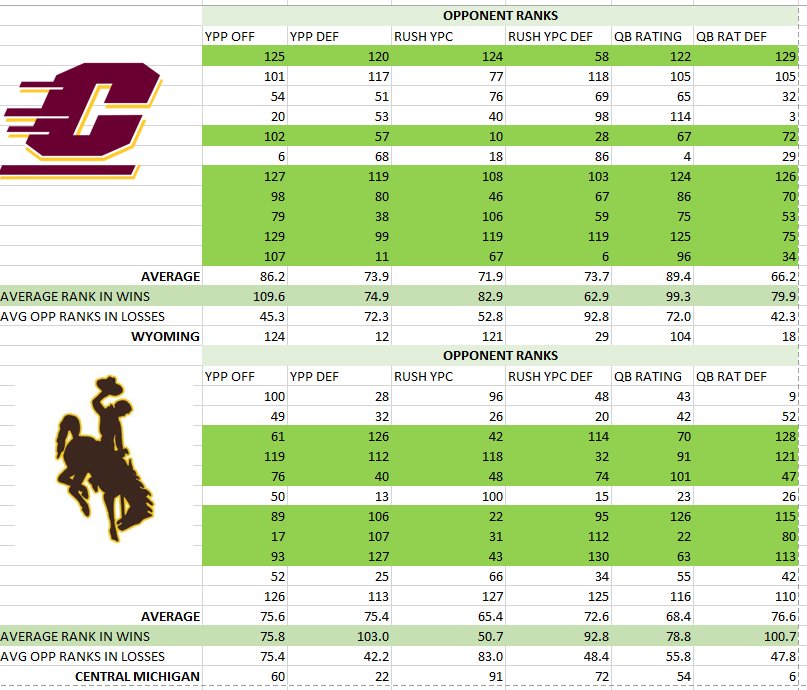 ---